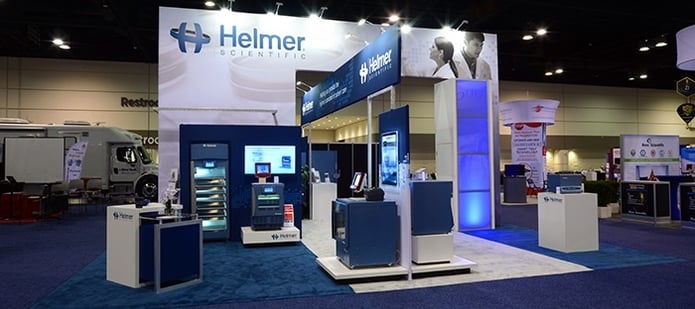 At Helmer Scientific, we are looking forward to celebrating our 40th anniversary and 38th consecutive year of exhibiting at the 2017 AABB Annual Meeting. This year's meeting will be held in San Diego, California, October 7 – 10, 2017. Helmer Scientific will be located at Booth #2025.
The AABB Annual Meeting is the premiere event for healthcare professionals in the fields of transfusion medicine and cellular therapies. This year's meeting includes more than 100 educational sessions, plus networking events, preconference workshops and an exhibition hall. During the conference, members of the Helmer Scientific team will have the opportunity to meet with transfusion professionals from around the world. A range of Helmer products will be displayed, including Blood Bank Refrigerators, Plasma and Ultra-Low Freezers, Platelet Storage Systems, Plasma Thawing Systems, Automatic Cell Washers, and Centrifuges. In addition, the BloodTrack® HaemoBank™ iBX020 will be shown. The HaemoBank™ blood storage system is a just-in-time blood allocation solution that acts as a 24/7 virtual, automated blood bank, helping to reduce blood bank workload, safely improve access, and reduce waste.
Hot topics at this year's Annual Meeting include "Is It Time to Change the Outdate for Red Cells to 35 Days?" and "Teen Donors: Handle with Kid Gloves?" For the session on red cell outdating, AABB is convening a panel of experts who will provide their perspective on the controversy over the harmful effects of older blood. They will also facilitate a discussion on whether the national outdate should be changed to 35 days, despite published randomized controlled trials indicating that there is no definitive evidence of clinical harm from transfusing older blood. The session on teen donors will examine concerns about the risk of iron deficiency in younger blood donors who are still undergoing neurocognitive development.
Helmer Scientific designs, manufactures, and distributes medical-grade cold-storage and processing equipment to help our customers deliver the highest levels of patient care. With 40 years of experience, Helmer supports customers in blood centers and hospital blood banks in more than 125 countries.
Annual Meeting Exhibit Hours are: Saturday, October 7, 5:45 pm – 8:00 pm; Sunday, October 8, 11:00 am – 4:30 pm; Monday, October 9, 10:00 am – 4:30 pm; Tuesday, October 10, 10:00 am – 2:00 pm.
If you will be at the AABB Annual Meeting we look forward to seeing you at Booth #2025!