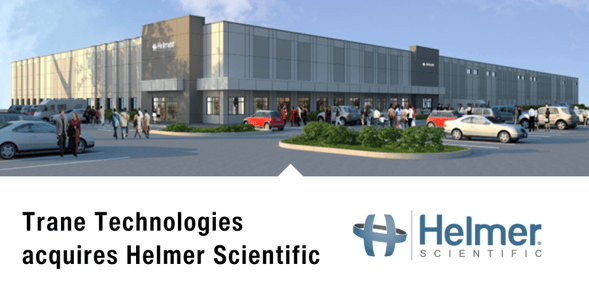 Acquisition broadens company's capabilities in precision temperature-controlled storage and processing in high-growth clinical, acute care and life sciences markets.
DAVIDSON, North Carolina, May 15, 2023 — Trane Technologies (NYSE:TT), a global climate innovator, has acquired Helmer Scientific, a leader in precision temperature-controlled storage and processing solutions for hospitals, labs, blood banks, and pharmacies. This acquisition supports Trane Technologies' strategy to bring climate innovation and temperature-control solutions to more industries, including the fast-growing life sciences and clinical health markets.
The acquisition of Helmer Scientific broadens Trane Technologies' capabilities in precision temperature control and its existing portfolio of life science solutions and expertise under the FARRAR™ brand. Trane Technologies will leverage its world-class operating system, and expertise in sustainability, services, global distribution and commercialization to accelerate Helmer's continued global growth.
"We are delighted to welcome the Helmer Scientific associates and customers to Trane Technologies," said Holly Paeper, president, Life Science Solutions, Trane Technologies. "Helmer is a recognized leader in its field with industry-leading technology, an experienced team, and deep customer relationships with major clinical, acute care and life sciences companies around the world. We look forward to building on Helmer's longstanding success as we combine our collective strengths to deliver even greater value to customers."
Helmer Scientific's more than 425 associates have joined the Trane Technologies team, and the business will continue its operations in Noblesville, Indiana.
"Helmer Scientific has served the clinical health market as an industry leader and trusted partner for customers for more than four decades," said Bruce King, CEO of Helmer Scientific. "I'm confident Helmer's rich legacy and industry impact will continue and reach new heights as part of Trane Technologies."
About Trane Technologies
Trane Technologies is a global climate innovator. Through our strategic brands Trane® and Thermo King®, and our portfolio of environmentally responsible products and services, we bring efficient and sustainable climate solutions to buildings, homes and transportation. Visit tranetechnologies.com.
About Helmer Scientific
Helmer Scientific is an established, entrepreneurial growth company headquartered in Noblesville, Indiana. We design, integrate, manufacture, market, and distribute specialized medical and laboratory equipment to clinical and life sciences customers in over 125 countries, as well as provide after-market service and support. For more on Helmer Scientific, visit helmerinc.com.