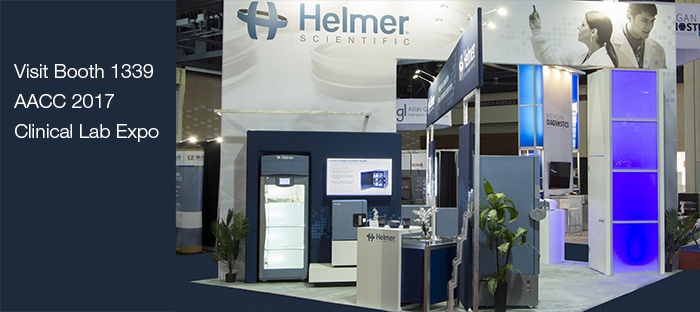 At Helmer Scientific, we are looking forward to the 69th AACC Annual Scientific Meeting & Clinical Lab Expo. It will be our 12th consecutive year of participation. This year's meeting will be in San Diego, CA from July 30 to August 3, with Clinical Lab Expo taking place the last three days of the meeting. Helmer Scientific will be located in booth #1339.
The AACC Annual Scientific Meeting & Clinical Lab Expo is the world's largest exposition for clinical laboratory products and services. According to the AACC website, the organization has approximately 8,000 members from all areas of laboratory medicine, including clinical and research laboratories, diagnostic companies, government agencies, and more. Their membership is responsible for developing lab instrumentation and tests, along with conducting diagnostic testing throughout healthcare. They also manage laboratories with a mission of providing accurate diagnostic testing. With members from 110 countries, AACC represents the many interests of a global lab community.
The meeting's scientific program offers more than 200 educational opportunities in the form of lectures, plenary sessions, symposia, short courses, and roundtable sessions, enabling attendees to design an educational experience to help them stay ahead of changes in the field.
Helmer Scientific manufactures and distributes medical-grade cold-storage and processing equipment to help our laboratories and other healthcare facilities deliver the highest levels of patient care. With 40 years of experience, Helmer supports customers in over 125 countries.
Clinical Lab Expo Exhibit Hours are:
Tuesday, August 1, 9:30am – 5:00pm
Wednesday, August 2, 9:30am – 5:00pm
Thursday, August 3, 9:30am – 1:00pm
If you will be at the AACC Clinical Lab Expo we look forward to seeing you at Booth #1339!