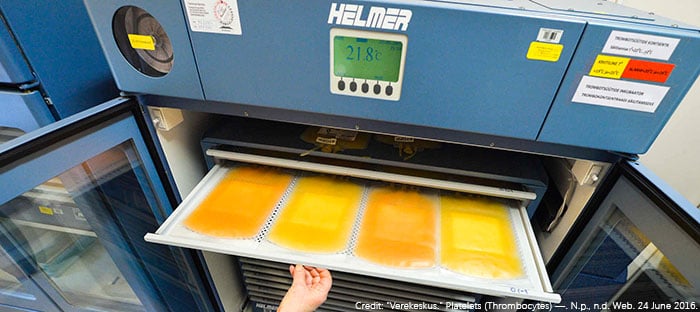 The U.S. Food and Drug Administration (FDA) has released a draft guidance document entitled "Bacterial Risk Control Strategies for Blood Collection Establishments and Transfusion Services to Enhance the Safety and Availability of Platelets for Transfusion." (The new version replaces draft guidance previously released in March of 2016).
The FDA issued this guidance document to provide blood collection establishments and transfusion services with recommendations on how to limit the risk of bacterial contamination for platelet products. It applies to platelets that are stored at room temperature and intended for transfusion, including apheresis platelets, whole blood derived platelets, pre- and post-storage pooled platelets, and platelets stored in additive solutions. It recommends strategies for both 5-day and 7-day platelet storage.
The recommendations in the new draft guidance were informed by data that was presented and discussions that took place during a Blood Products Advisory Committee (BPAC) meeting in July of 2018. Risk reduction strategies considered included the use of culture-based devices, rapid bacterial detection devices, and the implementation of pathogen reduction technology.
AABB created a tool that may assist blood suppliers and transfusion services as these facilities prepare to implement final recommendations from the FDA. It is a table that summarizes the risk control strategies for protecting different types of platelet products against bacterial contamination. It can serve as a reference tool in addition to the draft guidance.
Helmer Scientific supports blood centers and hospitals, the patients they serve, and their efforts to keep the blood supply safe. We have offered high quality blood storage equipment for 40 years and are here to help you to properly store and monitor your blood products. To review the AABB Summary of Bacterial Risk Control Strategies for the FDA's December 2018 Draft Guidance, click the link below: