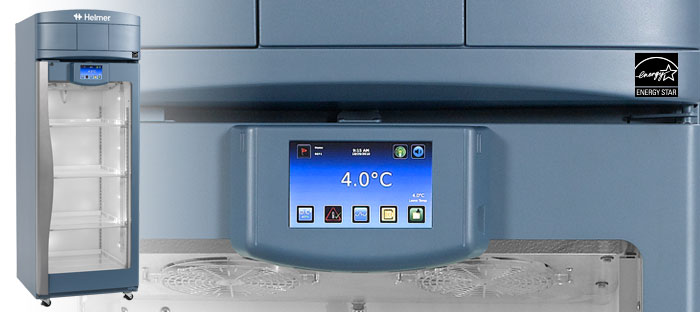 The U.S. Environmental Agency's ENERGY STAR® program is a voluntary program that helps protect the climate through the use of energy efficient products. Within the past year, the ENERGY STAR program was expanded to allow testing and recognition of laboratory, pharmacy, and blood bank refrigerators. This equipment category is broadly used in healthcare and research facilities to store blood products, patient samples, reagents, medications, and vaccines. Cold storage equipment used for clinical and research applications can have different requirements than household and other commercial refrigerators not designed for medical use. In order to appropriately safeguard sensitive, expensive, and often times irreplaceable, samples and products stored in refrigerators, healthcare and research facilities require specialized cold storage units.
In addition to having audible alarms and alerts to notify users of potential problems, these types of units are also designed with unique refrigeration systems to ensure adequate performance and superior temperature uniformity within the cabinet. These units are needed to protect products, such as sensitive refrigerated medications, vaccines and blood therapies, that require tight temperature control.
The EPA's ENERGY STAR® program recognizes that there are different categories of laboratory refrigeration and therefore created a High Performance category. This category helps identify those units which can meet an ENERGY STAR defined maximum variation in peak temperature specification using a standardized ENERGY STAR® testing protocol.
Helmer Scientific is pleased to be recognized by the ENERGY STAR® program as meeting certification requirements for the High Performance Laboratory Refrigerator category for blood bank, laboratory, and pharmacy refrigerators.
Please visit www.helmerinc.com/energy-star for the complete list of Helmer Scientific ENERGY STAR® recognized medical-grade refrigerators. This list will be updated by Helmer Scientific as additional products are tested and certified.