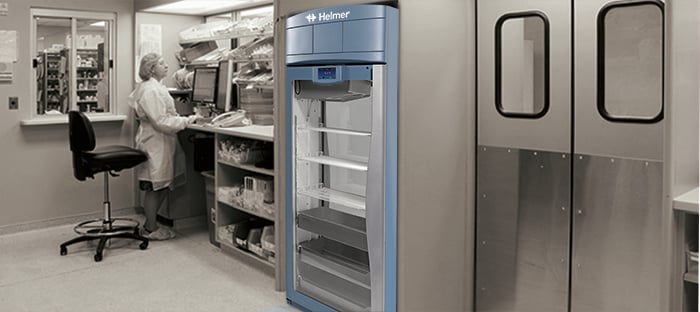 ---
Last week, at the ASHP Summer Meeting, Crystal Woodward, Senior Manager of Medical Affairs, Becton Dickinson & Co (BD), presented a poster on the burden of managing refrigerated medication in US healthcare settings. The poster brought to light that managing refrigerated medications is a complex process and that there are few guidelines and standards available to address the issue. The professional abstract authored by Patrick Callahan, Becton Dickinson & Co (BD), is below.
Purpose
Refrigerated medication storage is a complex process. Not all refrigerators nor temperature monitoring equipment may offer the needed mix of benefits. While medical-grade refrigerators are recommended, proper implementation and use is also of critical importance,including; location, appropriately sized, ensuring a level refrigerator, a well-ventilated room, an emergency electrical power-source, single-unit per electrical outlet, temperature monitor tracking, documentation and accurate alarm management. While drug manufacturers offer storage recommendations for individual medications, few practice guidelines and standards are available. This study's purpose is to assess the clinical and economic burden of managing refrigerated medications within the acute US healthcare system.
Methods
A literature review of evidence was conducted in MEDLINE, Embase, Cochrane Library databases and conference proceedings from ASHP Midyear and Summer Meetings.Studies published in peer-reviewed journals in English language from 2007 - 2017 and abstracts published from ASHP from 2012 - 2017 were screened. Additionally, grey literature was searched using Google for relevant white papers, newspaper articles and reports. Articles were included if they reported; direct evidence of the management of refrigerated medication in the acute pharmacy or POC setting, patient-specific infusions or injections, line item management of vaccines, lorazepam (Ativan), succinylcholine or neuromuscular-blocking agents, anesthesia,antibiotics, insulin or suppositories. Additionally, articles were also included if they reported the clinical and, or economic consequences of medical grade refrigerator, dorm-style under counter refrigerators or pharmacy policies and procedures. Articles focused on non-hospital pharmacy inventory management, drug formulation studies, or vaccine cold chain management in remote locations or developing countries were excluded.
Results
More than 300 articles were included in the initial stage of this analysis. Subsequent full-text screening reduced this number to a final 42 articles. Thirty-five (35) of these articles were related to vaccinations. Matthias et al, in 2007 noted in their literature review across 35 studies that 14 – 35% of refrigerators or transport shipments were exposed to freezing temperatures, possible inactivating these products. The World Health Organization (WHO) note the potential public health issue of vaccine damage from inadequate cold chain management,including; decreased herd immunity, increased epidemic, further complicated with at-risk populations and increased healthcare spending. Hanson et al, in 2017 updated research by Mathias et al, 2007. Hanson et al, across the 45 studies included in their literature review update that vaccine cold chain management is still a persistent issue. The other articles included in this analysis discussed the issue of waste, inefficiencies, ambient vs temperature sensitive medication management process confusion on staff. Several articles were excluded, as they were published in Europe, however, these articles directly investigated the cost and economic burden of poor cold chain medication management.
Conclusion
Refrigerated medication storage is a complex process, and the utilization,documentation and management of refrigerated medication may be further complicated by varied and disconnected processes, as well as, managing remote storage locations. Future research and evolving technologies may provide improved visibility and traceability of medications which can help optimize refrigerated medication management. Further research could be warranted to directly assess the economic burden of this topic. Additionally, education of effect sub-optimal technology use and protocol compliance may further empower healthcare professionals to jointly address this issue.
Submission Category: Informatics/Technology/Automation
Poster Type: Evaluative Study Session-Board Number: 28-MPrimary
Author: Patrick Callahan, Becton Dickinson & Co (BD)
Email: patrick.callahan@bd.com
This abstract originally appeared on ASHP.org To view other abstracts from the ASHP Summer Meeting, just follow the link below.