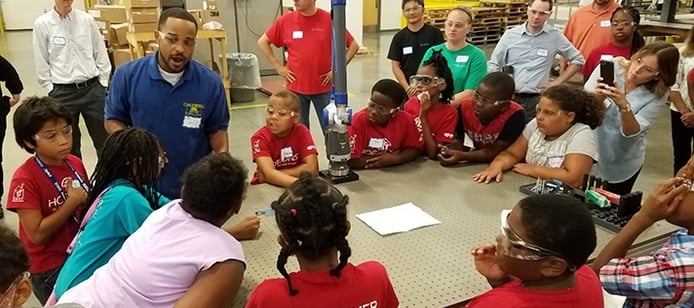 Helmer Scientific continues to build relationships with youth through the Horizons program, a non-profit organization aimed at closing the gap for low income children in inner-city Indianapolis. Volunteers from Helmer visited St Richard's Episcopal School recently as part of the Helmer Generosity Initiatives program which focuses on at-risk youth.
Helmer volunteers paired up with 3rd grade students to build Rube Goldberg machines, a complex contraption designed to achieve a simple task. This hands-on activity is fun for all ages, and encourages children to use their STEM muscles and learn the basics of engineering.
As a follow-up to the Rube Goldberg project, the students visited Helmer Scientific and were given a tour of the facility and an engineering project to complete.
Ashley Shufflebarger, a teacher at St Richard's said, "The Rube Goldberg projects and tour of the Helmer lab helped our students to see how engineering can be fun, creative, and applied in many different ways to everyday life".
To learn how you can become involved with the Horizons program at St. Richards, please visit http://www.horizonsatsres.org/.