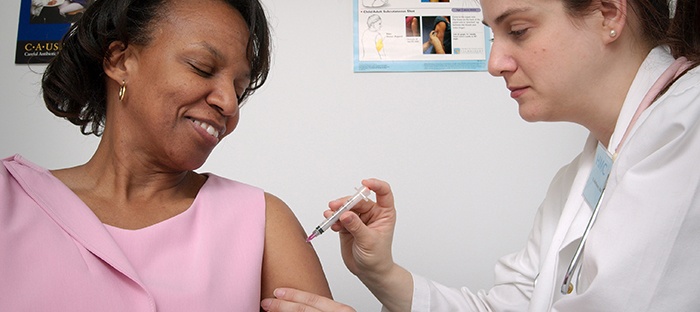 ---
Getting an annual flu vaccine is the number one way to protect yourself and others from the flu. Not only does flu vaccination reduce illnesses, it can also reduce unwanted doctors' visits, missed work and school, as well as prevent hospitalizations from severe cases of the flu. Healthcare providers play an important role in ensuring that the flu vaccinations which are administered are safe and effective.
Vaccinations not only protect the individual receiving the vaccination, but also people who are at risk for serious complications from the flu such as older adults, very young children, pregnant women, and people with certain health conditions which prevent them from receiving vaccinations (CDC). To ensure that vaccines administered are potent and effective, proper storage and handling by the provider is essential. The CDC provides a comprehensive toolkit on how to properly store and handle vaccines.
Wrapping up the 2016-2017 Season
The 2016-2017 influenza season was relatively mild. According to a CDC report, influenza A (H3N2) viruses were predominating; however, influenza B viruses peaked from March through May. Influenza vaccinations proved to reduce the risk of getting sick by 56% for influenza B viruses and vaccinations were effective in preventing influenza A (H3N2) 34% of the time. Overall, vaccines remained effective in reducing infection. As we approach the 2017-2018 influenza season, the CDC recommends annual influenza vaccinations for all individuals six months and older (PPN).
Looking into the 2017-2018 Season
FDA's Vaccines and Related Biological Products Advisory Committee (VRBPAC) met on March 9, 2017, to select the influenza viruses for the composition of the influenza vaccine for the 2017-2018 U.S. influenza season. During this meeting, the advisory committee reviewed and evaluated the surveillance data related to epidemiology and antigenic characteristics of recent influenza isolates, serological responses to 2016-2017 vaccines, and the availability of candidate strains and reagents (FDA). For 2017-2018, three-component vaccines are recommended to contain:
an A/Michigan/45/2015 (H1N1)pdm09-like virus
an A/Hong Kong/4801/2014 (H3N2)-like virus
a B/Brisbane/60/2008-like (B/Victoria lineage) virus
The committee also recommended that quadrivalent influenza vaccines contain the above three strains and the following additional B strain:
a B/Phuket/3073/2013-like virus (B/Yamagata lineage)
Storage and handling is important in ensuring influenza vaccine effectiveness this flu season. Do you have adequate refrigerator storage that meets CDC recommendations for the upcoming flu season? Shop our wide range of pharmaceutical refrigerators today.