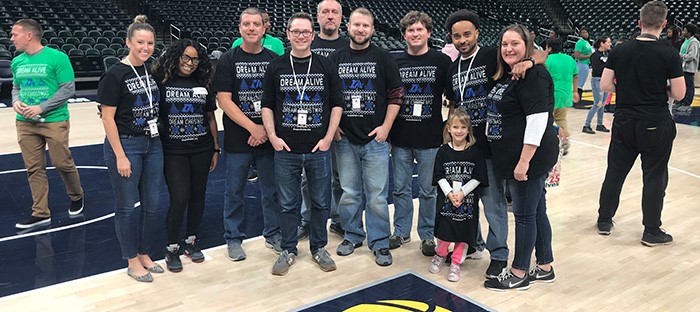 The 14th Annual Dream Christmas Celebration was hosted by Dream Alive on December 3, 2018. Over 100 Dream Alive Scholars provided Christmas presents and a holiday celebration for 100 children and their families at Bankers Life Fieldhouse in Indianapolis. The children are currently living at-or-below poverty on the near-east side of Indianapolis.
The Dream Alive 7th-12th grade scholars served as official hosts by welcoming children and their families. Each scholar is paired with a child in need and presents the child with special Christmas gifts to unwrap.
As part of Helmer Scientific's Strong Futures initiative, eleven Helmer volunteers partnered with Dream Alive, the Indianapolis Pacers and many other generous Indianapolis companies to provide a night out and spread holiday cheer. The Pacers, Boomer, and the Pacemates were in attendance, playing games with the kids and sharing in one-on-one experiences that they will remember for a long time to come.
To see a video of the Dream Christmas Celebration visit the Indianapolis Pacers website.
Dream Alive is a mentoring organization that exists to equip urban youth in grades 7-12 to become civic-minded leaders.
Strong Futures: Empowering Kids and Youth is an employee driven service campaign intended to encourage employees and their families to serve together to empower at-risk kids and youth.