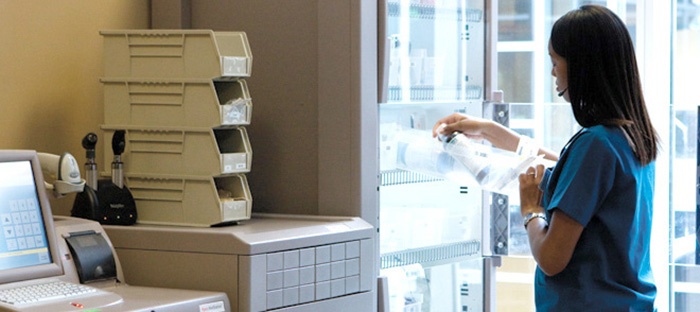 ---
Securing refrigerated controlled substances in the pharmacy can be challenging, but storing these medications on nursing floors adds yet another layer of complexity. Not only do regulations and guidelines for storing controlled substances need to be considered, it is also important to take into account how the security measures will affect the nursing workflow.
Keeping refrigerated controlled substances out on nursing floors provides many benefits as long as the medications are properly stored and secured. It can reduce the number of times the central pharmacy has to stock the medication rooms, cut down on time required to short-date the refrigerated medications, lengthen the time medications can be stored therefore reducing waste, and improve efficiency overall.
Many solutions are in place for ambient medications which reside in medication rooms out on nursing floors, such as automated dispensing cabinets, but refrigerated controlled substances are often left more vulnerable. There are various solutions to move controlled substances closer to the patient to save time and reduce waste.
A dedicated, compact refrigerator that is able to integrate with the automated dispensing cabinets in the medication rooms is a great solution to balance the needs of the pharmacy and the nursing staff while meeting guidelines for the safe storage of refrigerated controlled substances.
Our latest article highlights ways you can improve efficiencies by storing controlled meds on nursing units, as well as steps to take to ensure compliance. To learn more about storing refrigerated medications on the units safely and securely, download our article titled Securing Refrigerated Controlled Substances Outside of the Central Pharmacy.