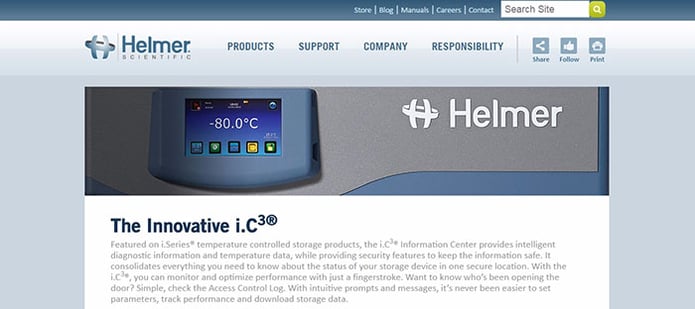 The i.Series® line of temperature controlled storage products features the i.C3® Information Center, an integrated control and monitoring system. A new page has been created on the Helmer Scientific website to make it easier to discover the benefits of the i.C3®.
The built-in intelligence of the i.C3® provides constant temperature monitoring, data and diagnostic information, as well as security features to keep sensitive settings safe. It is featured on i.Series® cold storage products from Helmer Scientific. Visit The Innovative i.C3® to learn more about the following:
System Status Console
Min/Max Display and Reset
Event Log and Detail Screen with Event Acknowledgement
Data Transfer Center
Automatic Alarm Testing
Guardian Plus™ Protection
Localization Features
The i.C3® Information Center has smart features that help protect the valuable items stored inside, while enabling users to monitor the performance of the unit at a glance. Check out our new page for additional information!