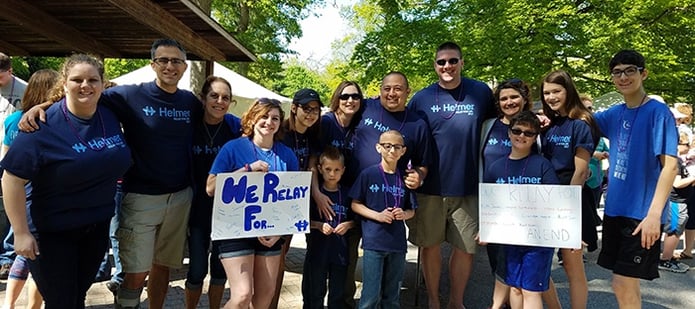 Thirty Helmer Scientific team members plus family and friends spent last weekend at Forest Park in Noblesville, IN, honoring survivors of cancer, remembering those who have lost the battle, and providing hope and encouragement for those currently fighting.
Relay for Life is a grass-roots effort of the American Cancer Society. This cancer walk includes 5000 events in over 20 countries, providing life-changing opportunities for those involved. For Helmer team members, this is a personal event. Many lives have been touched by cancer and this is a chance to honor those who have both survived or succumbed to the disease. Beth Keck, Executive Assistant to the CEO, stated, "I walk for my mom who is a breast cancer survivor, and my dad who lost his battle with leukemia".
Prior to the walk, Helmer hosted multiple events to raise money for Relay for Life. These events included a bake sale, corn hole and ping pong tournaments, a Cinco de Mayo lunch, raffle, and a walking taco stand at the Relay for Life event in Forest Park. Over $4000 has been raised to date which will be donated directly to the American Cancer Society.
To find out how you can participate in a Relay for Life event, please visit relay.acsevents.org.